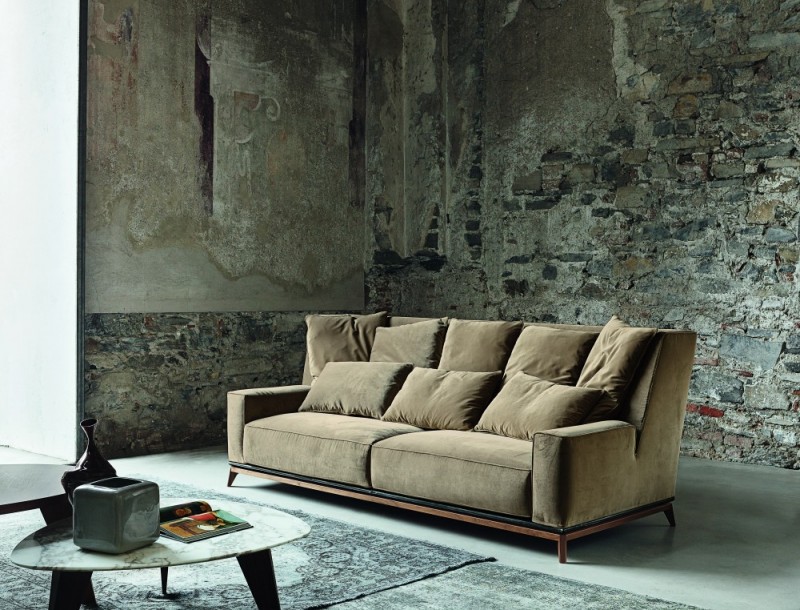 Design : Gianluigi Landoni
Year : 2014
Origin country : ItalieBrand: Vibieffe
Sofa Opéra Vibieffe,
style, charm and elegance are the main characteristics of this object made with attention to details and selection of materials. Sofa Opéra is a product with extremely sophisticated image. A re visitation of the classic, designed for elegant and prestigious environments.
Quality
Refined simplicity and carefully studied distinction are the particular traits characterising all of Vibieffe's products, which not only meet our tastes: they simply determine them. If elegance is a game of lines, matching of colours and use of top quality materials, then Vibieffe's upholstered pieces of furniture are extremely elegant objects, designed to furnish the space in which they live, personalizing and distinguishing it, in line with the spirit of these last few years, when the house has newly become a reference point both for oneself and for the others, a place where people meet in an intimate atmosphere, a real mirror reflecting one's own character.
VIBIEFFE TODAY
Vibieffe has been working in the field of upholstered furniture since 1967 and it is present on the Italian and foreign market in co-operation with the most qualified manufacturers of the sector. Located in Lissone, the Company has become a real reference point in this sector thanks to its manufacturing skills and its products, constantly in line with market trends and modern furniture. Vibieffe manufactures sofas, modular furniture, armchairs, big and small, as well as day beds. All these creations are drawn by renowned designers and architects working for Vibieffe; their signature is forged in the objects they create, to make them unique and unmistakable. Always.
technical features
Frame base: Multi-layer wood.
Frame backrest/arms: Multi-layer wood and solid fir-wood.
Seat cushions: Polyurethane foam with different densities covered with heated bonded polyester fibre.
Back cushions: Silicone polyester fibre covered with 100% cotton lining.
Base and backrest padding: Polyurethane foam with different densities covered with heated bonded polyester fibre.
Base finishing: Leather profile according to choice.
Feet: Canaletto walnut wooden base and feet.
Cover: Fabric or leather cover. Fabric cover completely removable.
Sofa 235 :    5 cushions  70×50
                        3 cushions   60×40
Sofa 295 :    6 cushions  70×50
                        4 cushions  60×40
Available typologies